Go therefore and make disciples of all nations
While we are on mission here in Eaton Rapids, we are also on mission globally through our support of our brothers & sisters abroad as we seek to bring the life-giving message of the gospel to all nations.
As a Christian-based all volunteer organization, the mission of Heart and Hands is to compassionately assist in meeting the basic human needs of local individuals and families.
The food pantry serves families living in the Eaton Rapids School District. The staff performs all the operations of the pantry including purchasing, moving, sorting, and distributing food. The program also assists families experiencing emergencies involving utility shut-offs or the need for deliverable fuel, evictions, medical or transportation needs, as well as food and shelter for homeless individuals and families.
City Rescue Mission of Lansing
First Baptist Church of Eaton Rapids also supports the City Rescue Mission of Lansing. The City Rescue Mission of Lansing is a 501c3 non-profit operating in Lansing, Michigan, USA. that exists to meet physical and spiritual needs in Michigan's capital area. More information about the City Rescue Mission can be found at
Brad & Amber Jones (Serving in Vanuatu with BMW Missions)
Brad & Amber Jones and their three girls; Zoe (2004), Piper (2007), and Lola (2010) are working on the island of Uripiv in the small South Pacific country of Vanuatu. They're partnering with the local community and indigenous churches by providing both linguistic support and discipleship training to encourage the passionate pursuit of God and His story. They are continuing the work of evangelism/discipleship training using the tools of translation, literacy, and Bible teaching, community development, and language research. Currently, they are working on a translation of Genesis, and they have started teaching chronologically through the Old Testament.
Randi & Connie Harris (Serving in Texas with Missionary Tech Team)
Missionary TECH Team is a service mission to churches and other ministries. We provide technical services through Computer, Graphic, Facilities, and Mechanical, (which is a car lease program for missionaries home on furlough), worldwide reaching thousands for Christ. In 2013 we had projects in 48 countries and 40 states totaling 522 ministry projects. "Our Vision is to be the service mission like-minded Christian ministries may turn to for technical assistance and know-how". "To know Christ and Make Him known". TECH's web page: http://www.techteam.org/.



Noah & Liz Kamper (Serving in Costa Rica with United World Missions)
Noah and Liz Kamper are working alongside the great people at Iglesia Unión in Costa Rica. They have a heart to teach the Costa Rican Church how to do discipleship in community and building up the church to be equipped to serve in the areas where they are gifted Noah is the associate pastor and oversees the children's ministry among many other things. The Kampers are working to develop a discipleship and missions mindset among the people at Union. While most of Liz's days are spend with their three boys, (Forrest, Elliot, and Quinn) she also plans church events to create community. Website: http://uwm.org/missionaries/27615/ Social Media: http://nlkamper.blogspot.com/



Mark & Becky Sterken (Serving in Caribbean & Latin America )
Our purpose is to help advance the Great Commission in the Caribbean and Latin America by utilizing global ministry partnerships here, to strengthen, encourage, and train leaders of indigenous churches abroad. Website: abwe.org Facebook: https://www.facebook.com/mark.norman.31924792






Jonathan & Christie Swift (Serving in Dearborn, Michigan with Christ Community Church)
Jonathan & Christie planted & lead Christ Community Church in the heart of Dearborn - the nation's most densely populated Muslim community and home of 2 universities which boasts a high rate of international students. They seek to reach out to families from all walks of life and ethnic backgrounds, while at the same time advancing global church-planting by recruiting & equipping internationals to plant churches back in their homelands.
Website: http://cccglocal.com/
Facebook: https://www.facebook.com/CCCglocal
Affiliation: https://www.convergemidamerica.org/church-planting
Catherine Bristol (Served in Ghana with Baptist Mid-Missions)
Catherine Bristol is a retired missionary nurse who worked under Baptist Mid-Missions in Ghana, West Africa. Catherine worked together with other medical missionaries to build a clinic in the village of Baayiri. Cathy became the missionary nurse-in-charge of that small outpatient facility. A national staff including an administrator, lab assistant, dispensary worker, and and two other nursing assistant have been trained and joined her in this ministry. Now the clinic focuses on recruiting and training more national technical staff (particularly a registered nurse and a midwife) to provide quality care for the people living in the 13 villages in their immediate area. Even in her retirement from working as a missionary nurse in West Africa, Cathy continues to support and encourage the clinic ministry to continue and successfully flourish as an outreach.
Michael & Sherri Carlson (Serving in Europe with Pioneer Missions)
The Carlsons facilitate church growth and planting in Europe (especially Czech Republic and Italy). Their goals are (1) to help the local Czech church plant leaders to be stronger servants and be less dependent on Michael and people's opinions, (2) to gain more contacts for planting and evangelism in the Czech Republic, (3) to deepen contacts with other churches in the Czech Republic to see if they can help their mini-church planting movements, (4) to continue expanding and encouraging our network of Italian planters and leaders, and (5) to continue our online ministry, Sherri's ministry is to build up the church by equipping women in Switzerland, Italy and the Czech Republic,
Wally & Natasha Kulakoff (Serving with Mission Eurasia)
Wally and Natasha Kulakoff focus on training nationals for evangelism and discipleship across Eurasia. No one can effectively evangelize their community single-handedly. However, churches can provide the tools for national Christians to be successful in evangelism and discipleship. Together, working as a team, the Kulakoffs help young national leaders to grow, to adapt the message to the culture of their countries, and to bring transforming change by sharing the gospel in their communities." Natasha is involved in a Home for Every Orphan and the social media for Russian Ministries in translation and editing of testimonies. Website: https://missioneurasia.org/
Rev. Andrew C. Semenchuk (Serving with the Slovic Gospel Association)
Missionary Andrew Semenchuk has been ministering to his Slavic people for over 50 years.. Today, he spends a good part of each year in Russia, Ukraine and Belarus in national Christian leadership training, church-planting seminars, developing Bible Institutes and Seminaries, forming national Mission Outreach and Christian Education Programs and overseeing new church construction. As Senior Associate of International Ministries for SLAVIC GOSPEL ASSOCIATION, Andrew also helps to formulate mission strategy and coordinate ministries. He maintains close contact with churches and para-church organizations in former Soviet countries and churches in the West, developing sister-church relationships and linking them in a network of joint ministries. Website: : www.sga.org
Ronnie & Karianne Silva & Family (Serving in Peru with Pioneers)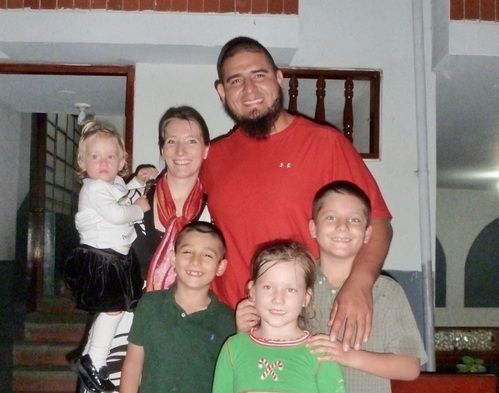 Ronny & Karianne Silva (David, Lucas, Isabella, and Sofia, too!) We are the Silvas and we are serving the Lord in Trujillo, Peru. Peru is a predominately Catholic country, however most people are "Catholic" by birth and do not have a personal relationship with Jesus. Because of this though, we are able to speak freely and openly about our Savior. We are mostly involved in one-on-one street evangelism and a few different bible studies. Our ministries also include a couple of discipleship groups and we also work closely with an orphanage as well. Pray that God will open the eyes of the Peruvian people. Website: https://www.pioneers.org
Jason & Nisae Williamson (Serving in Papua New Guinea with Ethnos360)
Jason & Nisae serve in Papua New Guinea Church Planting among the Iskis people. Few countries can match the cultural diversity of Papua New Guinea, whose 7 million people speak more than 800 languages, and live mostly in rural, indigenous communities.








John & Diana Woods (Serving in Winslow, Arizona with Baptist Mid-Missions)
Native American Ministries.